2010 Crawford Global Day of Service
2010 Photo Gallery
View complete gallery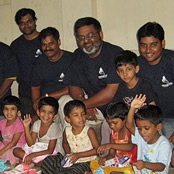 Chennai, India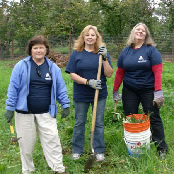 Bellevue, Washington

Sao Paulo, Brazil
Crawford Volunteers Complete 54 Projects Worldwide During Second Global Day of Service
For the second year in a row, more than 1,200 Crawford & Company employees helped others around the world on October 2 as part of the Company's annual Global Day of Service.
"As we have in the past, we continue to support a number of community initiatives with our corporate dollars, but we also know that when we roll up our collective sleeves and work together to help our communities, the results are tremendous," said Crawford President and Chief Executive Officer Jeffrey T. Bowman. "I am proud of the generosity our employees and their family members showed to the towns and cities where we live and work in our second Global Day of Service."
The 54 projects planned by volunteers in 19 countries ranged from organizing food drives to constructing homes to clearing trails. Some specific activities were:
Providing meals, playing games and participating in other activities with children in several Brazilian institutions for abandoned children
Donating, sorting and delivering items collected during a month-long food and supply drive for the Orangewood Children's Foundation in Brea, California
Preparing and serving lunch to guests of the Mustard Seed Street Ministry in Calgary, Alberta, Canada
Planting trees in the Mt. Halimum National Park rainforest in Indonesia
Organizing a blood donation drive in Kuala Lumpur, Malaysia
Volunteering at the Autism Society's Camp Royall in Pittsboro, North Carolina
Interior painting, exterior landscaping, clean up, and housekeeping in the SOS Children's Village in Sunrise, Florida
Company employees also served their communities individually if they were not able to join a group project.
In Atlanta, where Crawford is based, about 150 volunteer employees, family and friends from corporate headquarters, Tucker and Glenridge Point locations worked on several maintenance and enhancement projects in Chastain Park. Chastain is the largest public park in the city with facilities that include jogging paths, horse stables, playgrounds, tennis courts, a golf course, swimming pool and amphitheater.